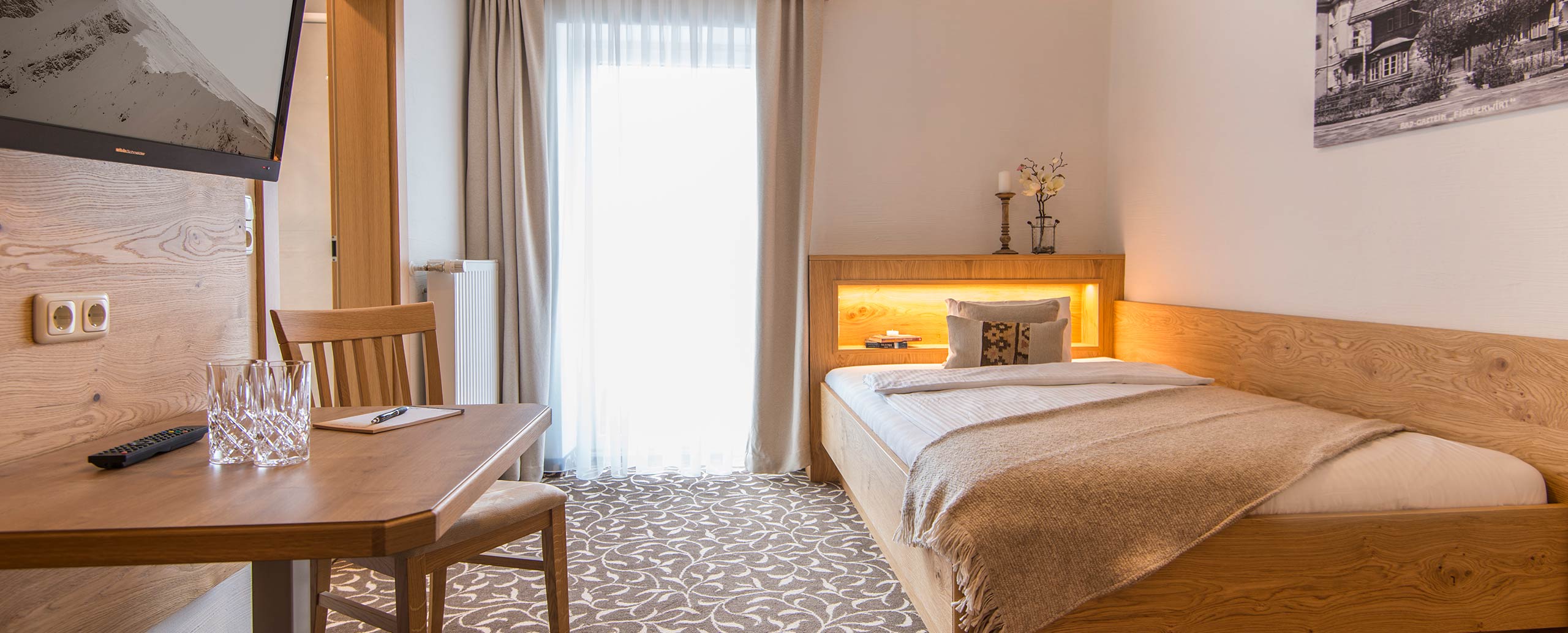 The single room "Waterfall" seduces the senses for a relaxing holiday. The spacious single bed in "French style" offers enough space to sink into the world of dreams. Also suitable for cuddle lovers who want to enjoy hours together. The old-wood look of the furnishings encourages relaxation and enjoyment.
Due to the modern and generous design, the bathroom appears as a small oasis of well-being. The large window floods your body with heat and light, allowing energy to flow through your veins.
The jewel in the crown is the spacious balcony, which opens up to the south and offers a direct view of the Rathausberg. The influence of nature brings body and soul in harmony.
SPECIAL FEATURES

spacious single room
French bed with comfort bedding
also suitable as double room
sunny balcony facing south
Table with seating
free W-Lan
SAT - TV and radio
Room safe
spacious bathroom with window
integrated hair dryer
comfortable towels
including Gabi's loving breakfast buffet
inclusive Gastein-Card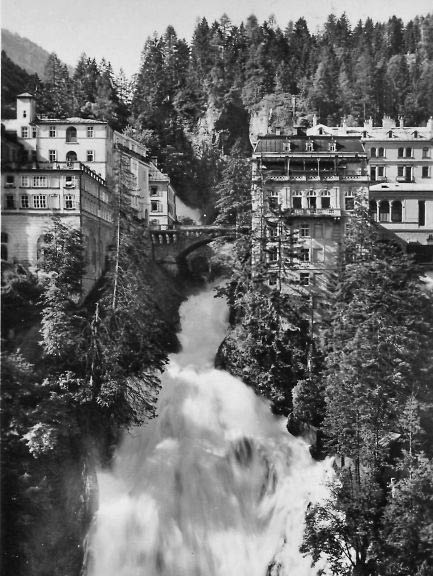 Water as connecting element
A document from 1327 conveys the oldest coat of arms of Gastein - the image of a water jug. Since 1930, Bad Gastein officially includes a silver jug on a blue background in its coat of arms. This serves as a symbol of wealth and healing power at the same time.
Another landmark of Bad Gastein is the waterfall, which is one of the most famous in Austria. The height of the fall is three steps along the Gasteiner Ache and is about 340m. The waterfall bridge, built of stone in 1840, was completely renovated in 2010. The waterfall offers an impressive natural spectacle in the middle of the world health resort and the air, which is negatively ionised by the atomisation, is considered to be particularly beneficial to health.
The Gastein waterfall has always been a popular motif for postcards and holiday pictures, but also the model for many famous painters and artists. At the foot of the waterfall is the power station, which was built in 1914 and shut down in 1996.
Today the power station is a coffee house with a small menu and event location. In this area is also the end of the Flying Fox with which you can hover over the waterfall. Also the waterfall path leads through the spring park, this one reaches from the upper waterfall bridge to Bad Bruck. This impressive walk allows you to experience the power of water up close.